Biography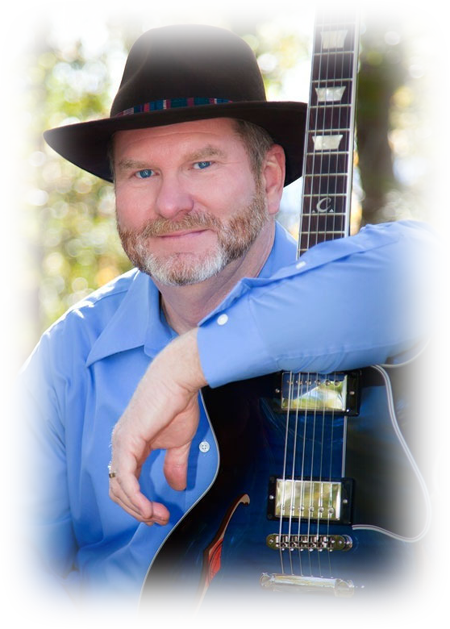 Ronald D. Hackett
Phone: 931.438.3298
Email: ron@rhackett.net
Website: http://www.ronhackettmusic.com/
Primary Instrument: Guitar
Style: Light Classical/Smooth Jazz
Artist Description:
Ron Hackett plays an eclectic mix of jazz, classical, Spanish, show tunes, country, and pop instrumentals on guitar using a combination of finger-style and flat picking on steel and nylon strings with an air of sophistication and refinement that would grace any occasion or event. Ron's chord melody solos are reminiscent of the late Chet Atkins, but Ron's style is a unique blend all his own. He does not strive to emulate other guitarists, but he does learn from them. Other influences include Joe Pass, Django Reinhardt, Johnny Smith, Barney Kessel, Herb Ellis, Charlie Byrd, and Bucky Pizzarelli.
Ron plays solo and band gigs around the Tennessee Valley and frequently teams with songwriter Greg Mitchell to perform songwriter shows and musical events as
Two Old Men
. Ron plays regularly with the
Praise Team at the First Baptist Church
in Fayetteville, Tennessee, and he plays rhythm guitar for the
South Jackson Street Band
in Tullahoma, Tennessee. He has also played in the Mel Deal Guitar Ensemble at the
Nashville Jazz Workshop
. While he prefers jazz, Ron is open to playing any type of music. Ron hosts a weekly Performing Arts Show at the
Fayetteville-Lincoln County Art Center
in Fayetteville, Tennessee with co-host Taylor Hoch. The show is open to any type of performing art, including musicians, songwriters, singers, poets, dramatists, and comedians. This weekly event is open to all and is held every Thursday night from 7 to 9pm. Ron is also a software and web developer. He has written a
chord transposer
that works with Microsoft Word to find and transpose chords in standard chord and lyric sheets. This program can also convert chord charts into the Nashville Number System charts. Ron's Chord Transposer is available for free on several freeware download sites. Ron enjoys helping other artists with their web sites. Ron has a small studio in Fayetteville, Tennessee that is suitable for small recording projects and song demos for songwriters. He has portable equipment capable of recording up to 4 simultaneous channels. He also provides sound equipment for small and medium sized shows and can handle up to 10 microphone/instrument channels. Ron's musical career started on his eleventh birthday when my parents gave him his first guitar. It was a red Winston guitar that they had rented from Ray Davis at the Sound of Music store. About a year later, he traded the red Winston guitar in for a new Yamaha FG-150 that Ron still owns. Ron decided to minor in music when he started his undergraduate studies at the University of Central Florida (UCF) in Orlando, Florida. Ray taught him well, and he was able to skip some of the introductory classes. After completing four of the six quarters required, the intensity of his engineering major forced him to drop his music minor. After graduating college as an electrical engineer, Ron joined the Air Force and has been stationed in San Antonio, Texas; Dayton, Ohio; Albuquerque, New Mexico; and Tokyo, Japan. After retiring from the Air Force with over 20 years of service, Ron got a job with a defense contractor in Huntsville, Alabama for 10 years. In 2012, Ron became an independent contractor developing software and website. This gave him more time for his musical endeavors. Ron continues to study music, and has taken several classes at the University of Alabama at Huntsville (UAH) Department of Music. Ron's subtle, unpretentious performances provide a soothing and relaxing ambience that add a touch of class and elegance to your event without detracting from your event. Ron music sets a mellow and tranquil mood, and he never "rocks the house." If you have a special song that is not in Ron's repertoire, then he will gladly learn the piece for your event. His primary guitar is a Gibson ES-137 "Blues Burst" archtop electric guitar and a Taylor NS-34ce nylon string guitar. He also uses a Taylor 314ce flat top guitar when needed, and an Ibanez AG75 Artcore archtop electric guitar for outdoor performances. His amplification systems include a Bose L1 Model 1 solo performer system with a base unit that is good for smaller-to-larger spaces with audiences of up to 500 people. He also has battery powered equipment for outdoor performances where electrical power is not available. Ron's solo performances have a very small footprint making him a good fit for even the smallest venues. He is available for wedding receptions, private parties in your home or garden, community events, country clubs, fine dining restaurants, coffee shops, or any event where live instrumental background music is desired. Ron is also available for studio sessions, bands, ensembles, and combos. With attire for any occasion, his wardrobe includes a tuxedo for elegant affairs, pin-stripped business suit for corporate events, sport coats and ties for less formal events, casual clothing, and beach apparel. Let Ron Hackett provide the instrumental background music for your next occasion or event.


Ron Hackett Music
All rights reserved.
Website by
Hackett-STAC Software and Web Solutions
Proud member of

Tri-State Musician's
Union (Local 80)